Home /
Capabilities /
Live Event Video Production
Live Event Video Production
Working with an AV team to produce high quality events can be a daunting task. However, with the right company at the helm, you can expect nothing but the best results. Bright Spark Studios is a leading production company, offering a range of services including video production, sound, lighting, staging, and live streaming. All these services are project managed by a team of experienced professionals who are dedicated to providing the highest quality results.
At Bright Spark Studios, our team is comprised of experts in their respective fields who are equipped with the knowledge and skills necessary to produce the best possible results. Whether you're looking to produce a video, live stream an event, or create a bespoke lighting and set design, our team has the expertise to deliver.
We have proven experience of working on various sized live productions at venues around the country.
Our Portable Production Unit can handle up to 8 full-HD cameras with integrated vision and audio switching, graphics & VT playback.
Working closely with our AV partners, we can build stage sets to include LED video tiles, screens and front/rear projection to display your video content boldly to your audience. We can even live stream your event, expanding the audience beyond the physical event space.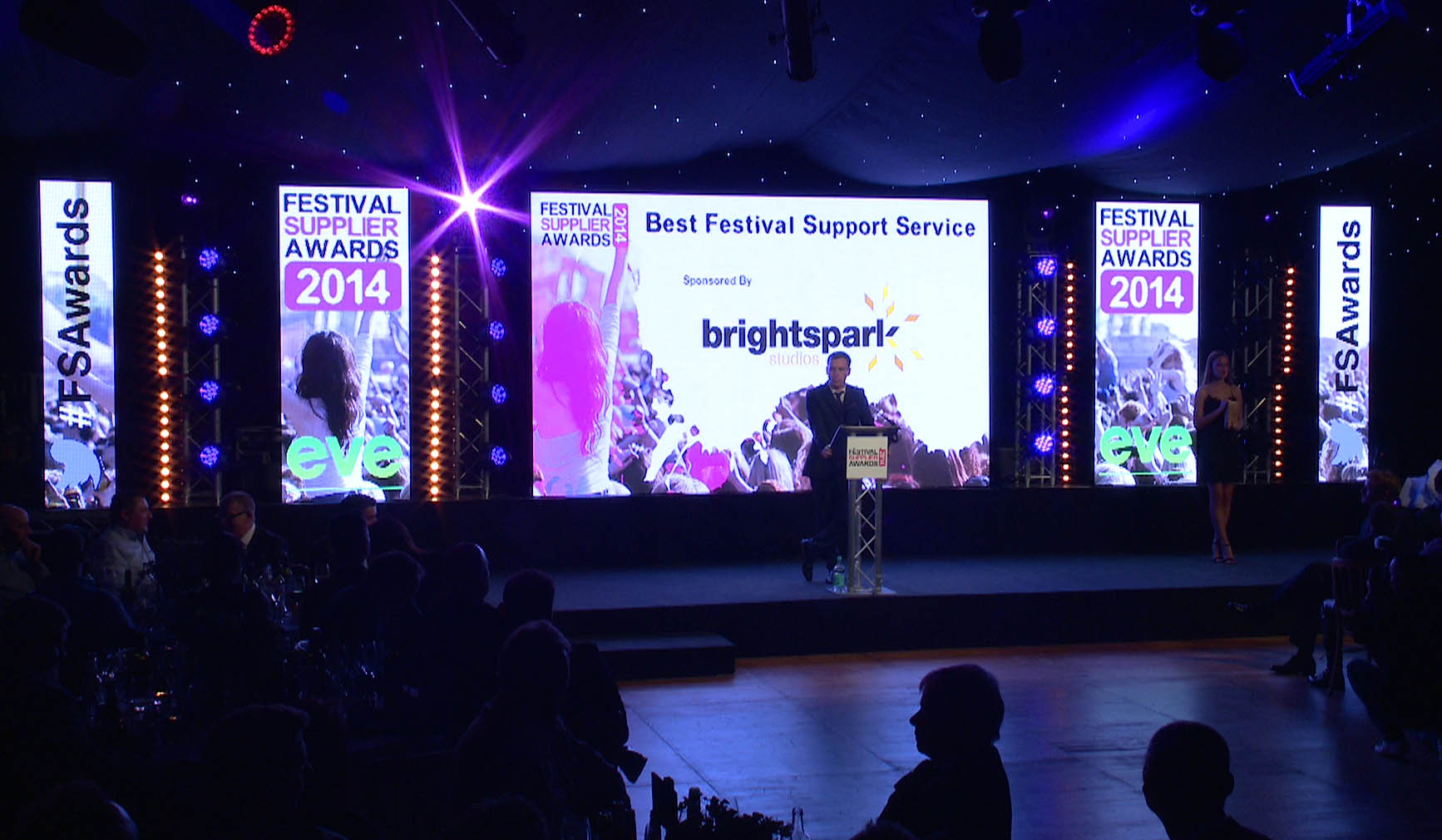 We have supplied live, large screen video to many events, including:
Product Launches
Trade Shows
Award Ceremonies
Conferences
Live web broadcasts
Using high definition cameras, HD-SDI cabling and fibre / microwave links where appropriate, we can supply live camera feeds over long distances.
Video content can be combined with your PowerPoint/Keynote presentations and other video content, played back on a media server, to produce a full audio-visual experience for your event.
Content Production
Alongside the design, technical build and operation of the live element of an event, we can also produce video and presentation content to offer a full turnkey experience.
We can build PowerPoint or Keynote decks based on a client brief and supplied information.
Technical Services
Our team of experienced professionals, along with our extensive network of trusted suppliers, ensures we can provide all the necessary services for a successful event, including:
Camera Operators:

Our skilled camera operators capture every moment of your event, ensuring all angles are covered and delivering high-quality visuals to your audience.

Audio Technicians:

Our expert audio technicians ensure that the sound is clear and balanced, providing an immersive experience for your audience.

Lighting Designers:

Our lighting designers create the perfect atmosphere for your event, setting the mood and highlighting key moments with innovative and impactful designs.

Video Engineers:

Our video engineers ensure that all video elements are perfectly synchronised, delivering a seamless experience for both in-person and online audiences.

Remote Speaker Integration:

We understand the importance of including remote speakers in your event. Our team will work closely with them to ensure seamless connectivity and IT checks, allowing them to control their presentations remotely without having to screen share. This provides the best possible experience for all viewers, whether they are in the room or watching online.
At Bright Spark Studios, we pride ourselves on our commitment to excellence and our ability to adapt to the unique requirements of each event. Our mission is to help you create a memorable, engaging, and successful event, tailored specifically to your needs. With our comprehensive services and expert team, we are confident that we are the perfect partner for your live event production needs. So if you're looking to produce an event that is truly unforgettable, get in touch with us today!
Interested? Find out more about us or get in touch.