Home /
Live Streaming
Live Streaming
Live streaming has become an increasingly popular tool for event organisers to reach a global audience and enhance the overall experience of attendees. There are a variety of different types of events that can benefit from live streaming, including physical, hybrid, and virtual events.
Physical events are those that take place in a physical location, such as a conference centre, concert hall, or sports arena. Live streaming at these types of events can be used to reach those who are unable to attend in person, such as remote employees or those who are unable to travel. This can be especially valuable for large events, as it allows a larger audience to experience the event from the comfort of their own homes or workplaces.
Hybrid events are a combination of physical and virtual events, where some attendees are physically present and others are participating online. Live streaming at hybrid events can be used to connect both groups and create a cohesive experience for all attendees. This is particularly useful for events that have attendees in different locations or for events where some attendees may be unable to travel.
By offering a hybrid event, you can reduce your environmental impact by reducing the number of people who need to travel to attend the event physically. This is particularly relevant as businesses become increasingly focused on sustainability and carbon footprint reduction.
Virtual events are entirely online events, and live streaming is a key component of these events. Virtual events provide a unique opportunity to reach a global audience, as attendees can participate from anywhere with an internet connection. Live streaming is a way to create a sense of community and interactivity, as attendees can participate in real-time and interact with the speakers and each other.
Regardless of the type of event, live streaming has many benefits. It allows event organisers to reach a wider audience, creates a more immersive and interactive experience, and can be a cost-effective solution compared to traditional events. Additionally, live streaming provides valuable data and insights, such as the number of viewers, demographics, and engagement metrics, which can help event organizers make informed decisions for future events.
With many years' experience of supplying live web streams, we can help you broadcast your conference, talk, event or webinar to the widest possible audience.
Whether it's streaming to a social channel like Facebook, Twitter, YouTube or Twitch, or embedding content to your website provided by a dedicated CDN we can help.
Depending on the type of event, our services range from a single camera basic live stream, to a full multi-camera vision mixed production incorporating on-screen graphics and VT inserts - either produced by us or supplied by the client.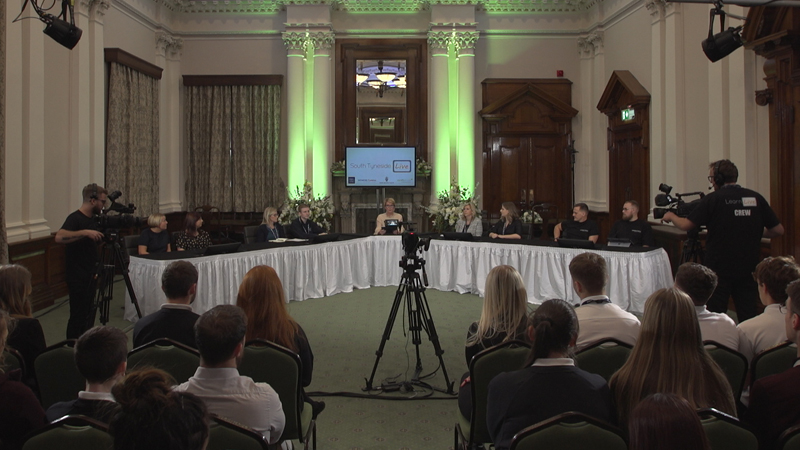 We have produced studio-style broadcasts featuring presenter, guests and live audience, streaming from client locations - transforming the space into a branded 'studio' complete with lighting, professionally-mixed sound and video screens so the studio audience can see the VT playback.
We can even supply our own connectivity for the broadcast, using KA-SAT Satellite Internet, 4G LTE or a combination of both.
We also offer solutions for hosting virtual online events, allowing presenters to deliver content from their office or home via webcam and benefit from a professionally produced production, vision mixed live and additional elements such as graphics, lower thirds and VT added, before being live streamed to a platform of your choice.
Our broadcast-grade in-house hardware, including Haivision, LiveU and Quicklink means that we are able to offer many acquisition and delivery options based on the project requirement.
Live streaming benefits from our video production services, meaning that not only can we produce content to be used during the broadcast, the event itself can also be recorded and a high quality edit produced afterwards for archive and repurposing
There are several factors to consider when planning a live stream. Get in touch to find out more about our streaming services.
Interested? Find out more about us or get in touch.