Home /
Live Streaming /
Public Board Meetings
Public Board Meetings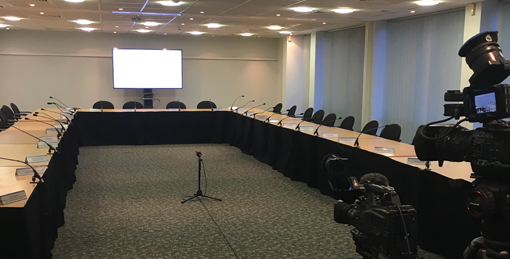 Bright Spark Studios specialises in live streaming board meetings using multiple cameras and superb quality audio. Whether you need to fulfil a legal requirement for public board meetings or want to share company updates with your stakeholders, we have a comprehensive solution tailored to your needs.
Our board meeting live streaming services include:
Multi-camera setup:

We use multiple cameras to capture different angles and perspectives, ensuring a dynamic and engaging viewing experience for your audience.

High-quality audio:

Our professional audio equipment and sound engineering services guarantee crystal-clear sound for your board meeting, allowing viewers to follow the discussion with ease.

Secure live streaming platform:

We can stream your board meeting on a secure platform, ensuring that only authorised viewers can access the content. Alternatively, we can also stream on popular platforms like YouTube, Facebook, or your company website to reach a broader audience.

Custom graphics and lower-thirds:

We create custom graphics, lower-thirds, and animations to add a professional touch to your live stream, incorporating your brand identity and event theme.

Speaker and presentation management:

We manage speaker transitions, microphone setup, and presentation slide management to ensure a seamless flow throughout the meeting.

Real-time technical support:

Our experienced technicians are on standby during the live stream to address any technical issues that may arise, ensuring a smooth and uninterrupted experience for your viewers.

Recording and archiving:

We can record your board meeting for future reference, on-demand viewing, or documentation purposes, providing you with an archive of your important meetings.

Post-event analytics:

Gain valuable insights into viewer engagement, interaction, and feedback with our post-event analytics services, helping you measure the success of your board meeting live stream and make informed decisions for future events.
Trust Bright Spark Studios to provide a professional and reliable solution for live streaming your board meetings. Our expertise in audiovisual production ensures that your meetings are captured and shared with your audience in the highest quality. Reach out to us today to discuss your live streaming requirements and discover how we can help you stay connected with your stakeholders.
Interested? Find out more about us or get in touch.