Home /
Capabilities /
Transform Any Space into a Pop-Up Studio
Transform Any Space into a Pop-Up Studio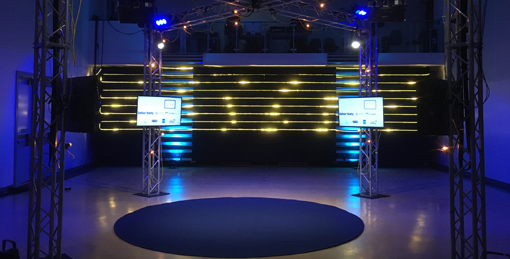 At Bright Spark Studios, we understand the importance of flexibility and adaptability in today's fast-paced digital landscape. That's why we're proud to offer our clients the unique opportunity to turn any space into a temporary pop-up studio for live streaming events or recording content. Whether you need to host a virtual conference, a product launch, or a live performance, our team of experts is ready to help you create an immersive and professional experience from any location.
Temporary Pop-Up Studio Solutions
With our pop-up studio services, we'll transform your chosen space into a fully functional production environment, complete with all the necessary equipment, lighting, and technical support. Our team of professionals will handle every aspect of the setup, allowing you to focus on delivering an exceptional event. Our temporary studio solutions include:
Customised Studio Design:

Our creative team will work closely with you to understand your vision and develop a studio layout that aligns with your goals and brand identity. From choosing the right backdrops to arranging the space for optimal camera angles, we'll create the perfect environment for your event.

High-Quality Equipment:

Bright Spark Studios provides state-of-the-art equipment for your pop-up studio, including professional cameras, lighting, and audio gear. Our experienced technicians will ensure that everything is set up properly and functioning optimally for your event.

Expert Technical Support:

Our team of skilled technicians and engineers will be on-site throughout your event to provide any necessary technical support and troubleshooting. We'll ensure that your live stream or recorded content is of the highest quality and free from any technical issues.

Seamless Integration:

Our pop-up studio services are designed to work seamlessly with your preferred streaming platforms or content distribution channels. Whether you're hosting a Zoom event or streaming on social media, we'll ensure a smooth and professional presentation.
Why Choose Bright Spark Studios for Your Pop-Up Studio Needs?
Versatility:

Our pop-up studio services are perfect for a wide range of events, from corporate conferences to product launches, live performances, and more. No matter your needs, we'll create a tailored solution that fits your unique requirements.

Professionalism:

With our experienced team and high-quality equipment, you can trust Bright Spark Studios to deliver a professional and polished production that reflects well on your brand and event.

Convenience:

Our temporary pop-up studio solutions offer a convenient alternative to renting a dedicated studio space. We'll bring the studio to you, allowing you to host your event in any location you choose.

Cost-Effective:

By creating a temporary studio space, you can save on the expenses associated with long-term studio rentals and equipment purchases. Our pop-up studio services offer a cost-effective solution without sacrificing quality.
Transform Your Space with Bright Spark Studios Today!
Don't let the lack of a dedicated studio space hold you back. With Bright Spark Studios, you can create unforgettable live streaming events and recorded content from any location. Contact us today to learn more about our pop-up studio solutions and discover how we can help you achieve your vision.
Interested? Find out more about us or get in touch.