Home /
Blog /
Bright Spark videos showcased at the 2016 Commercial Vehicle Show
Bright Spark videos showcased at the 2016 Commercial Vehicle Show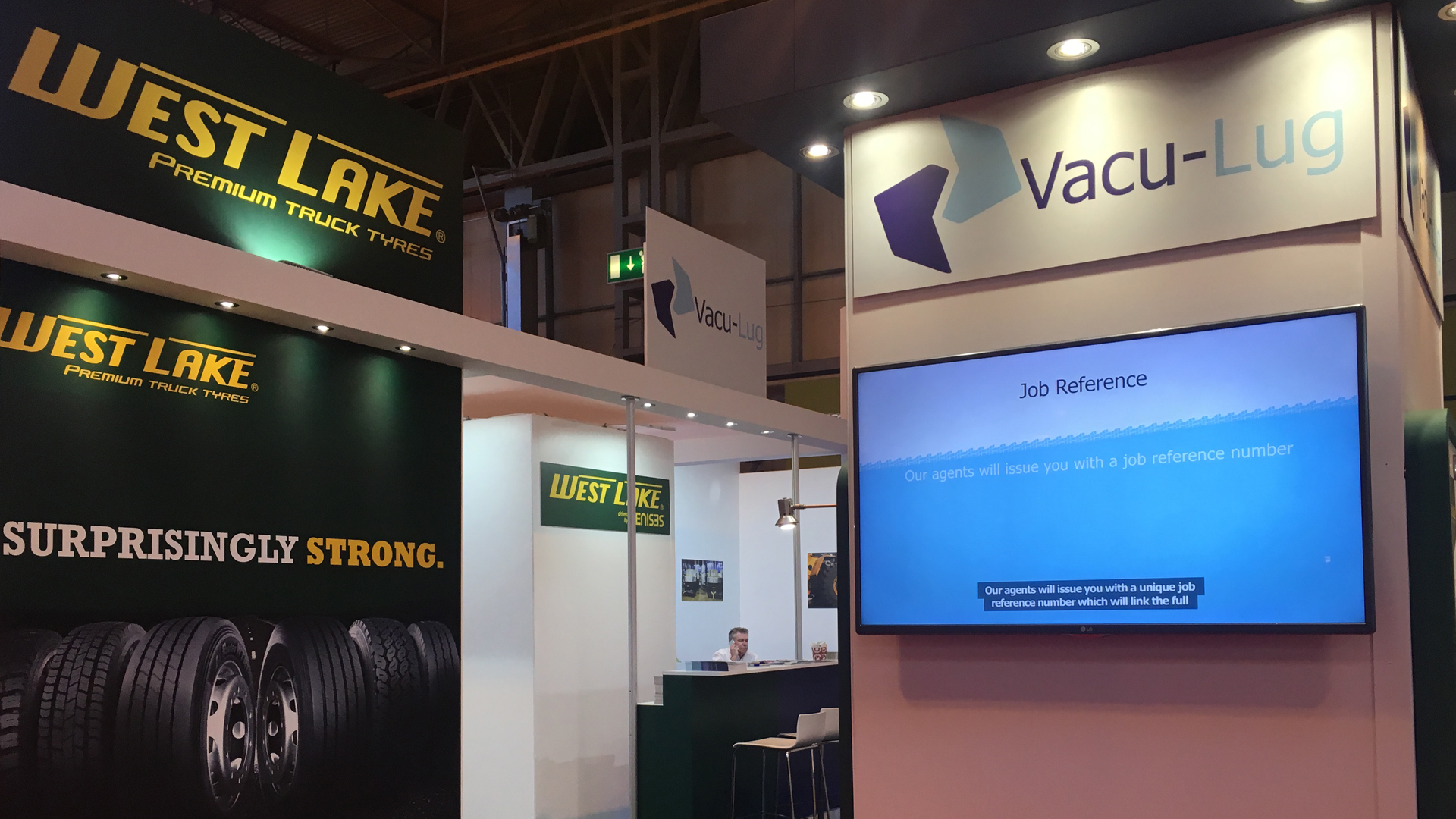 Bright Spark Studios produced 2 films for Vacu-Lug Traction Tyres who exhibited at the 2016 Commercial Vehicle Show at the NEC in Birmingham between 26th-28th April 2016.
Grantham-based Vacu-Lug commissioned Bright Spark Studios to produce the films; one showing the retreading process and the second about Vacu-Lug's Fleet Management and Tyre Rescue service.
The stand in Hall 4 was co-branded with Westlake, one of Vacu-Lug's tyre partners. Vacu-Lug is the sole UK distributor of Westlake tyres throughout the United Kingdom and supplies Westlake tyres within many of its fleet management contracts.
The retreading film was shot on-site at Vacu-Lug's Grantham factory and showed the various stages that a used tyre casing goes through to become a high-quality retread tyre. The focus of the film was the stringent quality checks and employee skill throughout every stage of the process.
The Fleet Management and Tyre Rescue film gave information about the various Fleet Management services which Vacu-Lug offers its clients, including on-site tyre inspection. Vacu-Lug's Tyre Rescue service is a nationwide tyre breakdown service, available 24 hours a day, 365 days a year. In the case that a fleet operator suffers a tyre related emergency, they call a number and a dedicated team of call-centre agents will dispatch one of Vacu-Lug's partner fitters to replace the affected tyre at the roadside.
The film was shot on location in Northampton, Leicester and Devon and featured Vacu-Lug's partners DX, Lodge Tyre and ITDN.
Both films were produced with subtitles for easy viewing in the show environment. The films are also displayed on Vacu-Lug's
website
.
Commenting on the show, Dave Alsop, Vacu-Lug's Fleet Sales Director said:
The CV Show was a great opportunity for us to share with the commercial vehicle world our premium retread products as well as raise awareness of our fleet management services.
Interested? Find out more about us or get in touch.