Home /
Case Studies /
VMS App Demonstration Video
VMS App Demonstration Video / Vacu-Lug Traction Tyres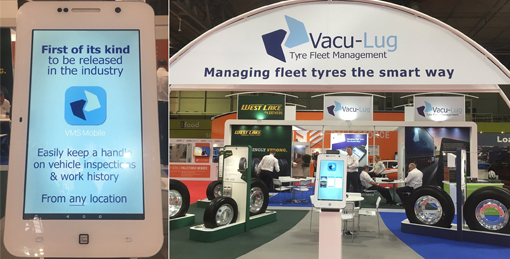 Vacu-Lug launched VMS Mobile – an app for Apple and Android devices which provides fleet managers with fingertip to their fleet's tyre data – anytime, anywhere. An essential tool for vehicle monitoring and compliance control, it works directly in line with Vacu-Lug's market-proven VMS Online management system to provide full vehicle history data, allowing operators to easily keep a handle on their tyre assets.
To demonstrate the funcationality of the app, we were commissioned to produce a demonstration video, to be showcased on Vacu-Lug's stand at the 2018 Commercial Vehicle Show.
The video was produced in a portrait, 1080 x 1920 aspect ratio, to mimic a phone screen. Screen shots from the app were combined with overlaid finger swipes and taps to demonstrate how the app works. Combined with graphics and voiceover, the video was displayed on a Giant iTab screen to provide a centrepiece for the stand.
Visitors could then speak directly with a Vacu-Lug representative who further demonstrated the app on a mobile device.
Vacu-Lug sales staff also use the video, loaded on their mobile device as an information tool when speaking to new clients.
Find out more about Vacu-Lug's Fleet Management Services