Home /
COVID-19 - Our working practices
COVID-19 - Our working practices
In line with Government, NHS and Industry guidelines, we have developed a set of best practice guidelines, which Bright Spark Studios will follow, to take reasonable and practical steps to safeguard the health and safety of everyone attending a production, in relation to COVID-19. These guidelines will work alongside our existing risk assessments and method statements.
Company Director Andrew, has also completed the ScreenSkills Coronavirus basic awareness on production training online learning module.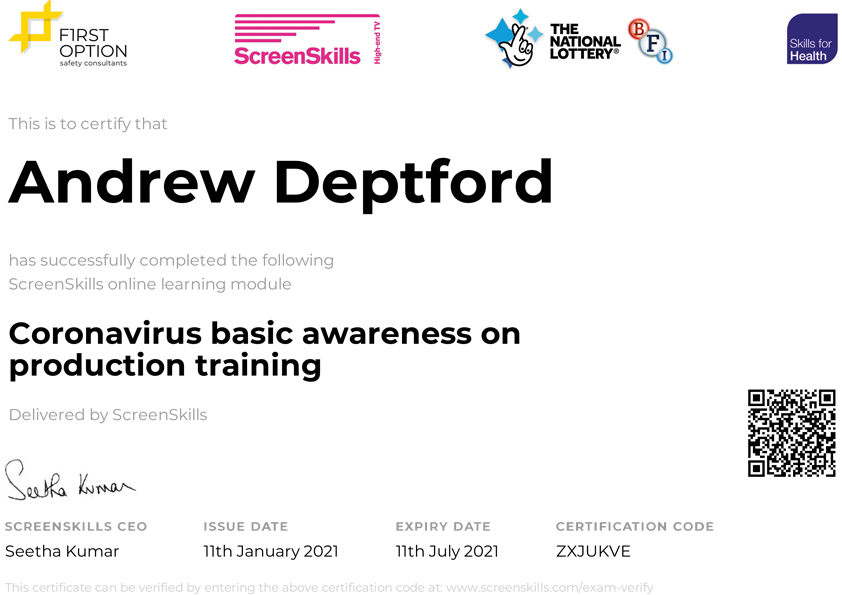 Government Guidelines
On 11th May, the Government published new guidance entitled "Our plan to rebuild: The UK Government's COVID-19 recovery strategy" which set out its roadmap to lift restrictions, including getting businesses which are allowed to be open back up and running safely. The guidance advises:
"For the foreseeable future, workers should continue to work from home rather than their normal physical workplace, wherever possible... All workers who cannot work from home should travel to work if their workplace is open. Sectors of the economy that are allowed to be open should be open... As soon as practicable, workplaces should follow the new 'COVID-19 Secure' guidelines"
Alongside this, the Government published a suite of COVID-19 Secure guidelines, comprising of a '5 Steps to Working Safely' plus 8 more detailed guidance notes focusing on specific work environments. The 5 steps to working safely are:
Carry out a COVID-19risk assessment.
Develop cleaning, handwashing and hygiene procedures.
Help people work from home.
Maintain two metres social distancing, where possible.
Where people cannot be 2 metres apart, manage transmission risks as per the Key Principles section below.
The more detailed guidance documents provide additional requirements for businesses' COVID-19 risk assessments and advise that companies must:
Share the results of their COVID-19 risk assessment with their workforce.
Consider publishing the results of their COVID-19 risk assessment on their company website (this is expected for employers with over 50 workers).
Display a downloadable "Staying Covid-19 Secure in 2020" notice in their workplace to show they have followed government guidance.
Medical Information
Some medical context on COVID-19 (PHE's guidance available here)
The time between exposure to COVID-19 and the moment when symptoms start is commonly around five to six days but can range from one to 14 days.
COVID-19 is transmitted from infected people's respiratory secretions (coughs/sneezes) reaching the nose, eyes or mouth.
The most common symptoms are high temperature, continuous coughing and loss or change to your sense of smell or taste.
Some people with COVID-19 suffer or show no apparent symptoms.
Asymptomatic sufferers may still be infected and there is strong scientific evidence that they can transmit the virus too.
COVID-19 can also survive on surfaces and be transmitted from them.
Key Principles
The purpose of social distancing and PPE is to break transmission of the virus and reduce the risk of infection. We should operate on the basis that we all have the potential to be asymptomatic carriers and must adhere to the safety principles to minimise risk. Therefore the following essential rules are based on current UK Government guidelines, and must be adhered to:
Maintain social distancing wherever possible - two metres apart. Where this is not possible, keeping 1 meter apart with risk mitigation is acceptable.
Wash your hands with soap and water, or hand sanitiser (containing at least 60% alcohol) if soap and water are not available, for at least 20 seconds as often as possible.
Cough and sneeze in the crook of the arm or into a tissue and bin immediately.
Report COVID-19 symptoms to employer.
Work from home where possible.
Where the social distancing guidelines cannot be followed in full, productions should take all the mitigating actions possible to reduce the risk of transmission by:

Considering whether an activity needs to continue for the business to operate.
Keeping the activity time involved as short as possible.
Using screens or barriers to separate people from each other.
Using back-to-back or side-to-side working whenever possible.
Staggering arrival and departure times.
Reducing the number of people each person has contact with by using fixed teams or partnering.
Best Practices
The number of people on a production should be kept to a minimum. Anyone - production staff, cast, crew and client - who is not absolutely necessary to have at the location to film the production should not attend. Furthermore, every person who will be attending the location - because it is necessary that they do so - shall sign a COVID-19 Health Declaration Form.
Pre Production
Pre-production meetings with clients will take place via video conferencing platform (Skype, Teams, Zoom etc) to minimise face to face contact.
If a location recce is required, the visit will be planned in accordance to the client's COVID-19 preparedness plan and limited to a crew of 1 (Director) to visit.
Ensure that participants retain the required social distancing, and preferably do not sit, or stand face to face.
Casting (if appropriate)
Casting sessions and callbacks will be done remotely via video link ups and self-casting.
Those aged 70 or over, or with known pre-existing conditions will be given special consideration and enhanced measures.
Before the shoot
COVID-19 can survive up to 72 hours on plastic and steel surfaces. All equipment will be sanitised before leaving the office - using antibacterial wipes.
Avoid printing and paper distribution - COVID-19 can survive on paper for up to 24 hours.
During the shoot
Call times will be staggered, to avoid congestion.
Equipment will be sanitised upon arrival to the location, using antibacterial wipes.
The production unit will be kept as small as possible to minimise number of crew/agency/cast on set at all times.
Wash and thoroughly dry hands on arrival and during the day at regular intervals. Alcohol-based sanitisers should be visible throughout location and soap and water provided wherever possible.
All crew to adhere to any safety guidelines or notices given on the day.
Where possible, locations will be well ventilated.
Boom sound where possible, or train talent to apply mics themselves if booming isn't feasible.
After the shoot
Before leaving the filming location, equipment will be wiped with antibacterial wipes.
Equipment will be cleaned again when returning to our office before being stored.
Transport & travel
Crew to drive themselves to filming location (one person per car) and be dissuaded from using public transport where possible.

From 15th June 2020 the Government requires all using public transport to wear face coverings.

Overnight stays to be avoided where possible. If this isn't possible, accommodation must comply with UK Government regulations.
Rooms not to be shared - single occupancy only.
Catering
Where possible, crew will be asked to provide their own food.
If this is not possible, pre-packed food items to be utilised.
Everyone must wash their hands with soap and water before consuming food or drink.
General
Bright Spark Studios cannot safely confirm any crew or cast who have travelled to, or had any contact with an individual returning from, high COVID-19 risk countries (as deemed by UK FCO) in the 14 days prior to a shoot.
All crew and talent to provide contacts for family/household in case of emergency on the day of shooting.
Individuals on the shoot should be contacted subsequently in the event that fellow workers/talent are found to have contracted COVID-19 within the two weeks following the shoot.
If crew have any symptoms associated with COVID-19 or in advance of the production, they should report to Bright Spark Studios and remain in quarantine at home, without going to their workplace.
Avoid using cash. Any production expenditure to be paid for using company card.
Avoid the need for sharing or passing around items - IE pens, printouts etc.
Where possible, drawings, plans and other documents to be shared and viewed digitally.
PPE
We will supply PPE for crew and talent as required, including:
Gloves - for single-use activities
Face masks/coverings*
Alcohol hand sanitiser gel
Antibacterial wipes
Face masks
Face coverings are mandatory when using transport, from 15th June 2020 - including public transport, private hire vehicles and taxis and a number of other indoor locations.
Up to date information about the use of face coverings can be found here.
Face coverings should also be worn in indoor places where social distancing may be difficult and where you will come into contact with people you do not normally meet.
As part of our internal risk assessments, Bright Spark Studios crew will wear face masks in all indoor locations.
When wearing a mask, the following procedure should be adhered to:
Wash your hands thoroughly with soap and water for 20 seconds or use hand sanitiser before putting a face covering on, and after removing it.
When wearing a face covering, avoid touching your face or face covering, as you could contaminate them with germs from your hands.
Change your face covering if it becomes damp or if you've touched it.
Continue to wash your hands regularly.
Change and wash your face covering daily*.
*If the material is washable, wash in line with Manufacturer's instructions. If it's not washable, dispose of it carefully in your usual waste.
General etiquette
We strongly advise against hand-shaking, hugs or fist-bumps / elbow-taps.
Avoid touching eyes, nose and mouth as much as possible.
Cough and sneeze in the crook of the arm or into a tissue and bin immediately - wash hands with soap and water or use hand sanitiser.
These guidelines will be updated as Government advice is updated.
Last updated: 11/01/2021
Industry guidance references include:
Advertising Producers Association
British Film Commission
PACT
ScreenSkills
Interested? Find out more about us or get in touch.