Home /
CD & DVD Duplication & Replication /
CD & DVD Replication
CD & DVD Replication
For clients requiring a minimum run of 500 discs, we recommend replication.
Discs are 'pressed' using a stamper, produced from a glass master - the discs are physically manufactured from scratch using an injection moulding machine. This method will produce an output the same as a retail disc.
As well as producing CDs, various types of DVD - DVD5 (single layer), DVD9 (dual layer) and DVD10 (1 layer on each side of the disc) can be produced.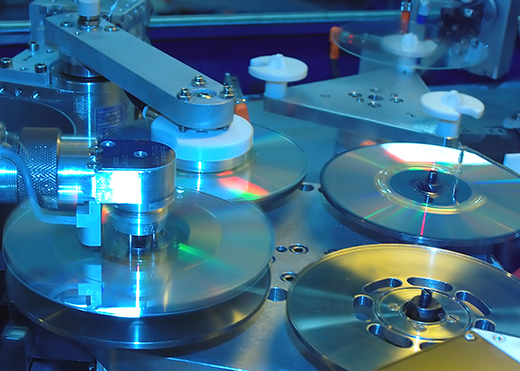 Our factory works to the highest possible standards with rigorous quality control.
Advantages of CD / DVD Replication
High quality retail-ready product
Screen or litho print options
Data is 'pressed' to the disc at the point of manufacture
Lower unit cost when compared to duplication
Disadvantages of CD / DVD Duplication
Longer lead-time (12-15 days)
Minimum order of 500 units
Master Delivery
We prefer replication masters to be delivered electronically in DDP (2.0) format. This allows an automated process of supplying the master to our manufacturing plant. For DVDs, authoring programmes such as DVD Studio Pro or Adobe Encore allow you to export your authored DVD in the correct format. For CD products, ask your studio to supply the files during the mastering process.
We can accept physical masters on CD-R or DVD-R media, but please ensure the discs are not scratched, do not touch the writeable surface or use +/-R media.
If you'd prefer us to handle the authoring process, simply supply your video file and we'll do the rest.
Interested? Find out more about us or get in touch.